Working Cattle On Our Kansas Farm – Part Two
To see Part One, click HERE.
In my previous post, we saw the cows, vaccinated, loaded onto the truck, and off to the pasture.
After their departure, we turned our attention back to the calves who had earlier received their vaccinations. It's was now their turn to be loaded onto transportation for their trip to the pasture. But unlike the cows who travel by semi-truck, the calves travel by stock trailer pulled by our pick-up.
Loading calves can be pretty tricky as they don't herd well, but tend to go in all directions. It's kinda like herding cats. Often they will turn around in the alley causing a bottleneck, or jump onto the trailer only to turn around and jump right back off again.
Prepared for the worst, but hoping for the best, Andrew, Stuart, and Harland got in behind them and herded them through the sorting pens, around the corner through the tub,
and into the alley, pushing them along single file until they reached the stock trailer.
The calves hesitated, but then hopped one by one onto the trailer until all were on board.
Just like that.
And we closed the door.
Smiles all around as it's never gone this smoothly before.
We thanked Stuart and Andrew for their hard work, and then Harland and I hopped into the pickup, and with our precious cargo pulling behind, we set off to the pasture.
It's a nerve wracking thing to think about your herd of cattle that you so carefully tend and watch over hurtle down a busy highway at 65 mph. So many things can go wrong. One of the worst things I've ever seen is a semi wreck with a load of cattle onboard. Dead cows were being removed from the ditch and loaded onto a truck. It was horrible. And I've never been able to get that image out of my head.
But our trip this day was uneventful, and a little over an hour later, we arrived at the summer pasture.
As we pulled up the hill to the gate, we saw the semi truck had just arrived as well and was unloading the cows.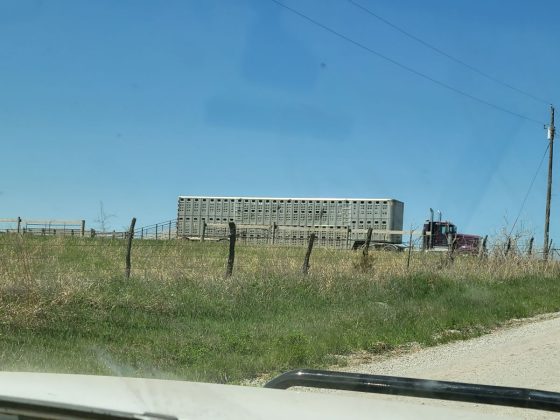 While it requires a bit of convincing to get cows to load onto the truck, it's not nearly so difficult getting them to exit.
The driver simply opened the door to each compartment on the truck, and the cows followed him down the ramp and into the sunshine.
Less than 10 minutes later, the truck was empty and the driver pulled away making room for us back our stock trailer up to the gate.
The calves didn't unload as easily as the cows. Some were a bit confused, jumping off and then trying to get back on.
But soon, they were all safely unloaded. They were greeted by screaming cows, calling for their babies.
This is the part of the day where you wish you had earplugs…
Take a listen to this:
We don't immediately release everyone into the pasture. We like for them to pair back up, for the calves to get a drink from their moms, and for everyone to calm down.
This takes about an hour, so we take this opportunity to go get some lunch.
So we headed back into town, and found a bar and grill that used to be a warehouse building for a grain elevator.
It's a rustic cozy place with plenty of history and great food to boot.
A motorcycle gang had arrived shortly before us, but no worries, they were all older than us and we decided we could take them, if need be.
We ordered something quick, a burger and fries. And I must say it was the best burger and fries I've had in a while.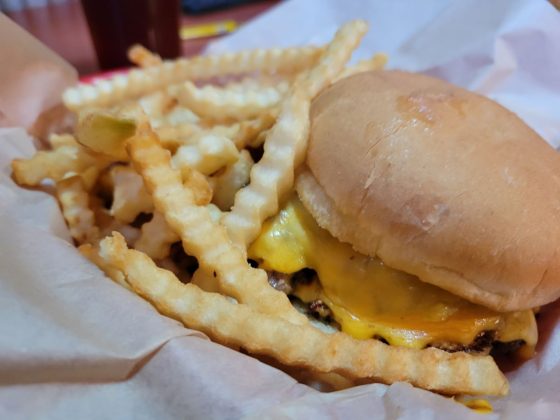 After lunch, we headed back to the pasture. The cows had reunited with their calves, and were eager to get out of the pen and into the pasture.
Every day of calving season starting in early March has led to this moment. All the long cold nights of calving, watching carefully over each newborn to see that they would bond with their mamas, taking care of any illnesses. One by one, we nurtured along each cow and calf, waited for the weather to warm up, and the pasture grass to grow….
And finally, here we are at last. It's time.
Let's just savor this moment, shall we?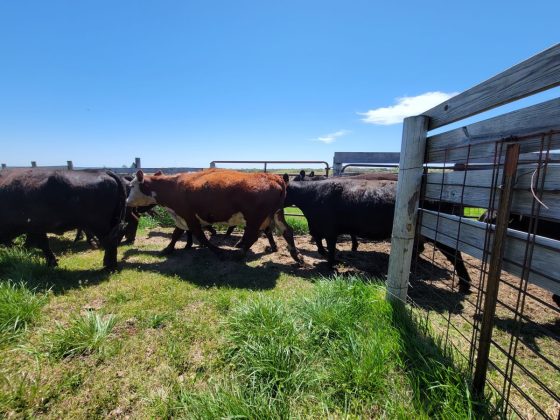 The cows wasted no time, immediately burying their heads in the rich prairie grass, hoovering up large mouthfuls. They couldn't eat quickly enough for fear that someone will shoo them away from their newfound heaven.
Soon, they grazed their way over the hill, their calves tagging along behind, eyes wide in wonder of their new home.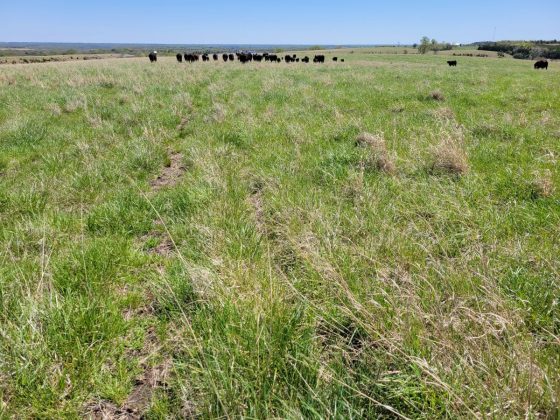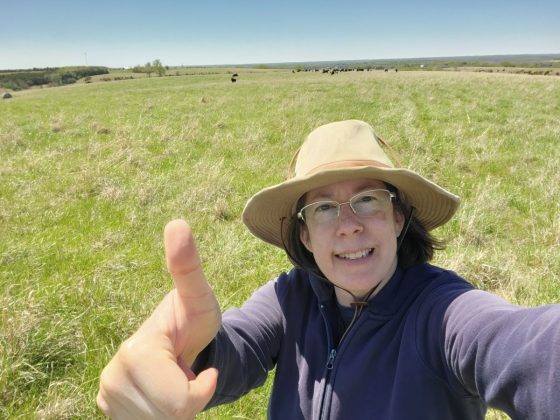 And no. If you're wondering if they showed any gratitude to us before they disappeared over the hill, you'd be mistaken. They didn't even look back.
Ingrates.
From now until October when we bring the herd back home, we'll check on them about once a week to see that everyone is ok. But they'll be pretty much self sufficient. They have 200 acres of grass to eat, a running creek, and plenty of shade trees to enjoy.
It's summer vacation for the herd.
~~~~~~~~~~~~~~~~